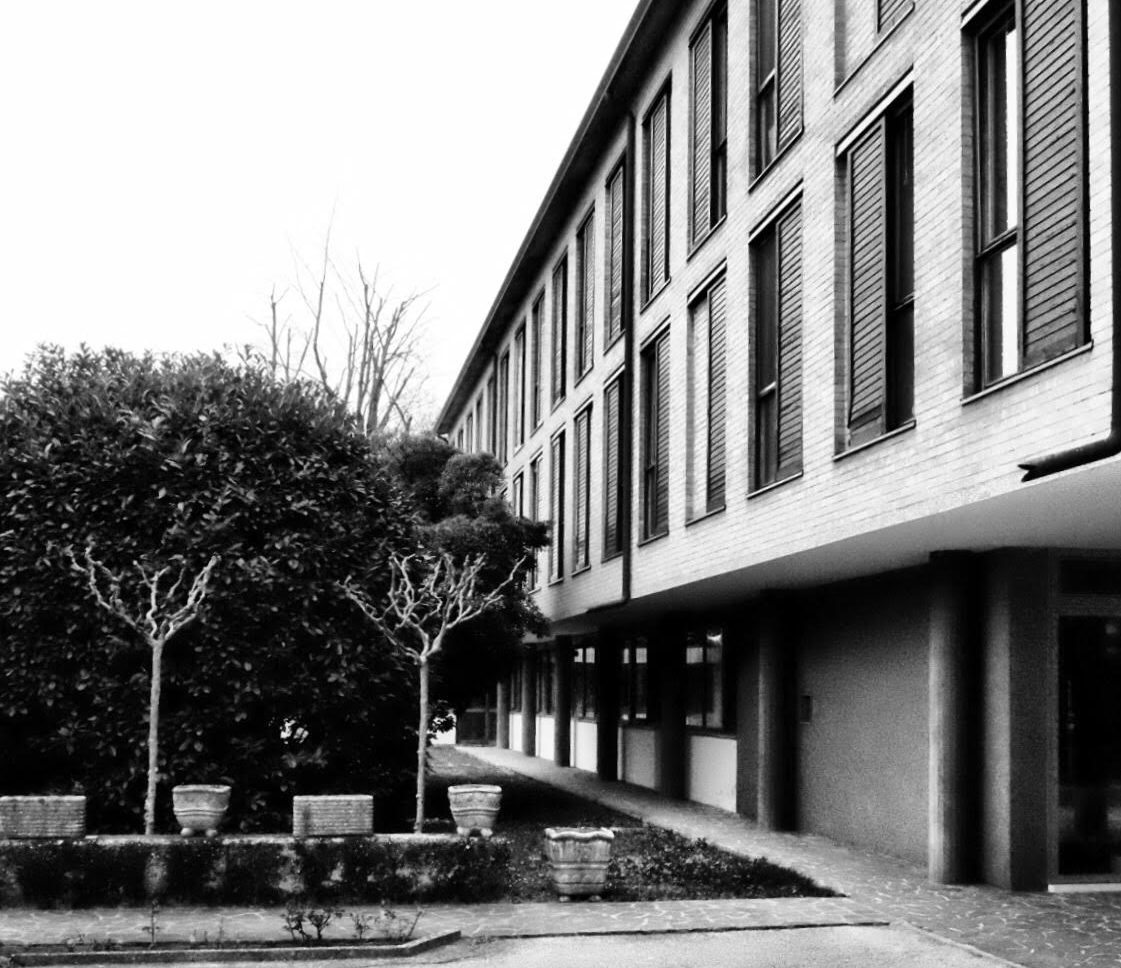 The college, built in the 60s following the most advanced architectural canons of that time, still carry a high level of functionality.
The building is found in a quiet residential neighborhood, surrounded by a huge garden and wide green zones, near the institutes of most faculties and the university polytechnic hospital.
The architect Brunetta opted for the type of single rooms, situated on the upper floors, which very well suited the spirit of the project, ideal for concentration and individual study, which is countered by an open layout on the ground floor, where the common areas are located, with large windows overlooking the internal courtyards and the garden. Students have access to a laundry room, spaces to hang and iron their clothing and wardrobes where they can store personal belongings during long periods of absence.
We find special attention in the design of the common areas, in the attempt to make them hospitable, inviting students to spend more and more of their time there, in order to build a spirit of adaptation and mutual tolerance. The entire complex is equipped with Wi-Fi coverage.
The internal canteen allows for breakfast and meals in a family atmosphere. Furthermore, students have access to a kitchen in the weekends. After meals and convivial occasions, the students can take advantage of the internal, self-managed bar, located in the TV room, which is the main meeting point.
The common areas include: rooms for lessons and group study; a computer room (with 6 workstations); a design room; the main hall, with 150 seats, which hosts conferences open to the public; a meeting room, with 40 seats. The library, equipped with scientific publications and literary culture books, and the newspaper archive, containing the most important Italian and foreign newspapers.
The tennis court and soccer field in synthetic grass, the multifunctional basket and volleyball field, both with nighttime lightning, the table tennis room, the billiard room and the gym allow for healthy sport exercises and leisure.
Finally, students who reach Padua by car have access to the internal parking area. Everyone also has access to a place to lock their bikes.